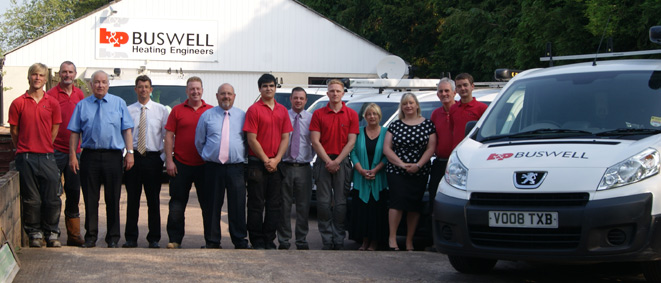 B&P Buswell Ltd is a family owned and run limited company. We are experts and specialists in all types of commercial, industrial and large domestic heating and hot water systems, steam processing, filtration and engineered plumbing systems, whether the fuel used is Natural Gas, Oil, LPG, Bio-gas, Solar or thermal.
The company, celebrating its 25th anniversary in 2008, was started by Brian and Paul Buswell in 1983, continuing on a Buswell family link started in Torquay in 1876, the last half century in the heating trade.
The company's installation services offer a full bespoke CAD design and engineering service. All system designs follow the latest building regulations, energy conservation and legal requirements, and our customers are safe in the knowledge that with the experience that we have, the system will be designed and installed appropriately.
The company has been steadily expanding its maintenance, servicing and breakdown operations so that all clients have the knowledge that any new build or heating refurbishments in existing property that they carry out can be looked after adequately. Our experienced servicing and breakdown team carry out PPM on a wide range of appliances including oil fired boilers, atmospheric boilers, blown gas burners, gas air heaters, water heaters and pressure vessels. All servicing is completed to a very high standard, which helps to keep the number of breakdowns to a minimum.
The company is a member of the Heating and Ventilating Contractors' Association (HVCA) and the Association of Plumbing and Heating Contractors (APHC) both of which are the leading trade associations in the United Kingdom. These memberships, together with The Gas Safe Register means that we, as a company, are audited on a regular basis to ensure that our standards of workmanship and professionalism is of the utmost quality. We are fully registered with The Gas Safe Register and OFTEC. Our engineers all hold current ACS Gas qualifications and are Gas Safe Registered. They also hold, and are registered with, OFTEC for oil installations, repairs and breakdowns.
All of our engineers operate from the company's well equipped premises in Paignton. The central location provides excellent access to Torbay and the surrounding area where the majority of work is carried out. The majority of the company's customers (approx 80%) are commercial or industrial installations with the remainder (approx 20%) being domestic premises.
The secret to such a successful heritage in local business is partly thanks to the company's ever growing experience and reputation. The company also puts a great deal of emphasis upon personal contact between the family and their clients ensuring a personal and friendly service. This personal service and high standards of workmanship are two aspects of the business that B&P Buswell will continue to realize and promote in the future.